现在到Dell购买无线 Touchpad, 你只需付$29.99就可以得到一台。
优惠货品原价$69.99,这次优惠直接降$40.00!
如果想知道更多资料,可以到他家的网上查看资料。
点击上面的蓝色按键查看优惠页面。
以下是官方资料:
Highlights
Designed and engineered for Windows® 8
Features slim-line black touchpad with silver accents modern design
The RF nano dongle allows for quick and simple set up through a USB port
Offers more workspace flexibility
This product is compatible with the following systems
Inspiron 13z (5323)
Inspiron 14z (5423)
Inspiron 15 (3520)
Inspiron 15R (5520)
Inspiron 15R (7520)
Inspiron 15z (5523)
Inspiron 17R (5720)
Inspiron 17R (7720)
Inspiron 620
Inspiron 660
Inspiron 660s
Inspiron One 20 (2020)
Inspiron One 23 (2330)
Latitude 10 (ST2)
XPS 12
XPS 13
XPS 13 MLK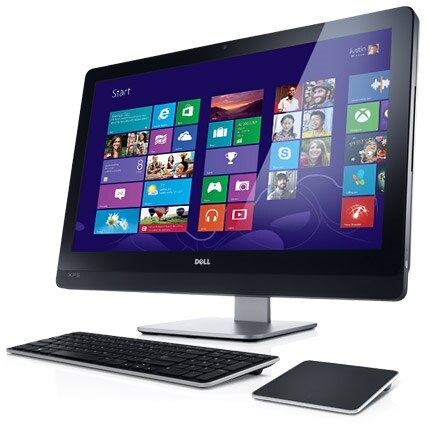 Multiply the fun with multi-touch.
Explore or expand your interactive capabilities by using up to four fingers at once on the large, smooth glass surface of the Dell Wireless Touchpad. Competitive touch games, drawing and music apps and more come to life with this multi-touch solution. Pair it with a non-touch display to experience four-finger touch and interactive computing, or add it to your touchscreen setup for a flexible multi-touch alternative.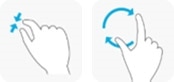 Swipe from edge to edge.
Discover full-touch capability even without a touch display. Every inch of the Dell Wireless Touchpad is touch capable — the entire surface. So you can swipe, draw, tap and scroll from edge to edge. Enjoy a natural, intuitive experience with precision clicking and easy gesturing across the entire touchpad..



Get the most out of Windows 8
Stay clutter-free with a wireless solution
Interact fluidly with the tiles, applications and charms of Windows 8. The roomy Dell Wireless Touchpad was designed and engineered to enable a natural, intuitive Windows 8 experience. If you have Windows 8 with a non-touch display, explore new interactive territory with the Dell Wireless Touchpad.
Add touch capability while keeping your computing station free from a bundle of wires. The Dell Wireless Touchpad enables a clutter-free area and workspace flexibility. Roam up to 32 feet (10 meters) from your PC with no interference. The RF nano dongle allows for quick and easy setup via a USB port.
Simplify with a slim, modern design.
Bring a touch of contemporary style to your environment. The low-profile, slim design and silver accents of the Dell Wireless Touchpad create a sleek statement. Pair it with the Dell KM713 wireless keyboard and mouse for an optimized workspace while maintaining design continuity..

Add touch to your PC.
Tap, drag and gesture to interact with your projects, games and Windows 8 apps. The Dell Wireless Touchpad adds four-point multi-touch to your PC.
Overview
The Dell™ Wireless Touchpad (TP713) is designed and engineered to help give users a natural and outstanding Windows® 8 touch experience with easy swiping, smooth scrolling and a full surface touch experience.This product has been tested and validated on Dell system. It is supported by Dell Technical Support when used with a Dell system.

Manufacturer Part# : X4YJC
Dell Part# : 331-9613
Compatibility
This product is compatible with the following systems:
Inspiron 13z (5323)
Inspiron 14 (3421)
Inspiron 14R (5421)
Inspiron 14z (5423)
Inspiron 15 (3520)
Inspiron 15 (3521)
Inspiron 15R (5520)
Inspiron 15R (5521)
Inspiron 15R (7520)
Inspiron 15z (5523)
Inspiron 17 (3721)
Inspiron 17R (5720)
Inspiron 17R (5721)
Inspiron 17R (7720)
Inspiron 620
Inspiron 660
Inspiron 660s
Inspiron One 23 (2330)
Latitude 10 (ST2)
XPS 12
XPS 13
XPS 13 Classic
XPS 14 (L421X)
XPS 15 (L521X)
XPS 8500
XPS One 27 (2710)